En vän bad mig skriva lite om Stockholm åt en amerikansk vän som snart kommer till Sverige och Stockholm för första gången. Alltså, man ska inte be mig om sådant… för jag kan inte göra något lite lätt. Det går liksom inte. Halvdant finns inte i min värld. Som vissa redan vet… Så prepare för monsterlångt inlägg. Inte för alla att läsa – men för egen del kul att spara.
Stockholm tar tid att uppleva, som alla städer man vill lära känna ordentligt. Men om man har begränsat med tid, och vill skrapa lite på ytan, så går ju det såklart. Förhoppningsvis tycker A's vän att denna info – i sin enkelhet och med sitt talspråk på sina ställen – hjälper honom att uppleva Stockholm lite mer. Kanske vill du addera något ytterligare?
Guide to Stockholm
---
Sightseeing in general
Close to the city centre, you have Riddarholmen – Stockholm's smallest island, packed with beautiful 17's centuries' buildings, and with great views of Stockholm (old town, Riddarfjärden, Stockholm city hall). Worth a short visit, in addition to the Old town.

Old town (Gamla stan)
is maybe the most famous part of Stockholm for the tourists. For us who live in Stockholm it feels a bit too 'touristic' to be genuinely nice to hang out in, but still – it is a nice area, and quite magic with all the really old houses and narrow streets. There are also guided tours, for example one about all the old town history. I'd prefer the ghost tour though… 🙂
When it comes to wining and dining in Old town, many places are overpriced due to all the tourists. It is, however, nice to have a "fika" (Swedish very important word for having a coffee with or without a little something to go with it) at one of the nice cafés on and around Stortorget. I think café Kaffekoppen is quite charmy.
Restaurants that are good include Bistro or Grill Ruby (Bistro = Swedish classics, more expensive of the two). Pontus By the sea has a nice waterfront location, and is nice for a beer – inside or outside.
City
Take a walk by the water, see the Royal Castle, beautiful Grand Hotel, Skeppsholmen with Moderna Museet, Strandvägen (way to Djurgården).

Djurgården
is another nice area (either walk from city centre ~30 min, or catch a boat from old town ~5 min) This is where Gröna Lund (amusement park – nothing compared to the american dito's I guess..) is located. Places I like to visit at Djurgården are Rosendal's garden and Skansen (it's not only about animals – it is sooo nice with all the small Swedish style houses etc) – worth visiting! Vasa Museum is quite cool. "Josefinas" is very nice for a drink on the terrace (open May-Sept)

Boat
With all its islands, Stockholm is best seen by boat. I can definitely recommend the sight seeing cruises.
And of course, the archipelago. Extremely nice. Take a boat to for example Fjäderholmarna (the closest island, but archipelago-feeling for being so close) or Waxholm (actually mainland, but nice anyway, with small shops and nice restaurants overlooking the water).

Kungsholmen
If you walk from the city centre, the first thing to pass is Stockholm City Hall (Stadshuset) by the water – worth seeing, this is where all the fancy events like Nobel banquet etc takes place. A walk by the water is nice – Norr Mälarstrand. After passing City Hall, you're at Norr Mälarstrand- very very nice for a walk, and finally we're off the tourist track 😉
Walk all the way to Rålambshovsparken, just for the nice walk. Boule bar in Rålambshovsparken is nice – for boule (or a beer). The restaurant "Kungsholmen" on Norr Mälarstrand is great – nice atmosphere, great food, great drinks. Ok prices. Recommended! Gerda's next door is also nice – mainly for drinks but also for food, and so is Mälarpaviljongen further down Norr Mälarstrand. Gerda's and Mälarpaviljongen are mostly for the outdoor parts though, so it depends on season.

City Centre
Well.. this might not be the charmiest part of Stockholm, but I guess you'll spend some time here anyway. Of course, this is where you have a lot of shopping and a little bit of everything. Do some fruit shopping – and bargains – at Hötorget. Designer clothes shopping in PUB (mainly Scandinavian designers) and at NK or Åhléns. Meeting point Stureplan.
Nice restaurants = East (asian/japanese, at Stureplan), Sturehof (classic, Stockholm celeb's hangout, Stureplan), Grodan (mainstream, good prices. Restaurant goes bar goes nightclub house/hip-hop – 05. am place), Grill (Stockholm's best restaurant? Love this place!), Riche (champagne in the bar, popular), Vassa Eggen (nice bar), Anglais (nice bar), "Hotellet" (loud, popular bar. Not my favourite place but a lot of people love it – starts 'easy' and gets more and more crowded the later it gets, so good for after work that lasts all evening. Food is quite good too). Nightclubs = the Rose (new, loud, a bit older people, age >28), Village (restaurant goes nightclub, 05 am -place),  Solidaritet, the old classic "Sturecompagniet", Blue moon bar (less fancy compared to the others)

Södermalm
Nice view from the bar at "Gondolen". Definitely go there for a drink and great view of Stockholm. Mosebacke is a nice relaxed music bar (bar goes dancing floor with alternative music), good also for brunch. Great place for music and culture lovers… Often live music here as well, from small jazz singers to bigger concerts.
Monteliusvägen gives a great view of Stockholm. Fjällgatan also gives you a nice view of Stockholm, and in the end of the street the nice veggie restaurant (buffet lunch) Herman's is located. . But my personal absolute favourite for a panorama view of Stockholm is Skinnarviksberget.  The view here is amazing, and it's truly a really romantic spot :-). Bring your own picnic!
If you like art and craft, don't miss Hornsgatspuckeln (/Puckeln), with all its galleries.
The restaurant Akkurat is located in the end of "Puckeln" – easy-going atmosphere, great mussels, and a great variety of beers/whiskeys.
Södermalm in general is a hip-chic area.
Lots and lots of small vintage shops are located here. Götgatan = street with many cafés, bars and restaurants and some shopping (Swedish designers/brands; Filippa K, Acne, Whyred etc for clothes, Designtorget, Ordning&Reda, Granit for design). Brunogallerian (shopping). Restaurant "Ljunggrens" – nice food, great, soft, bar.
But to get to the best places, you need to go even further south – to the area that reaches between Folkungagatan, Götgatan, Renstiernasgatan and Skånegatan. This are has a quite young and interesting vibe, and there are lots and lots of restaurants (often crowded) and bars. Google "SoFo" – south of Folkungagatan for more info. People compare it to NY SoHo, but that is to say a bit too much though, I'd say 🙂
Some restaurants – among many; Koh Phangan is a famous thai restaurant with charmy interior. Kvarnen (mainstream but a lot of football fans. But quite nice "beer hall"-feeling.
(Not SoFo) = Marie Leveau (great food, good bar, gets loud later), Sjögräs (amazing food, pricey). Hotel Rival with bar is nice.
But actually… I shouldn't specify any restaurants, it 's better to just walk around, take a look at the place and its menu, and be spontaneous.
But worth mentioning – Stockholm's only sky bar (worth calling a sky bar, that is), is "Och himlen därtill". A must-see! Enjoy your cocktail, overlooking all Stockholm in panoramic view.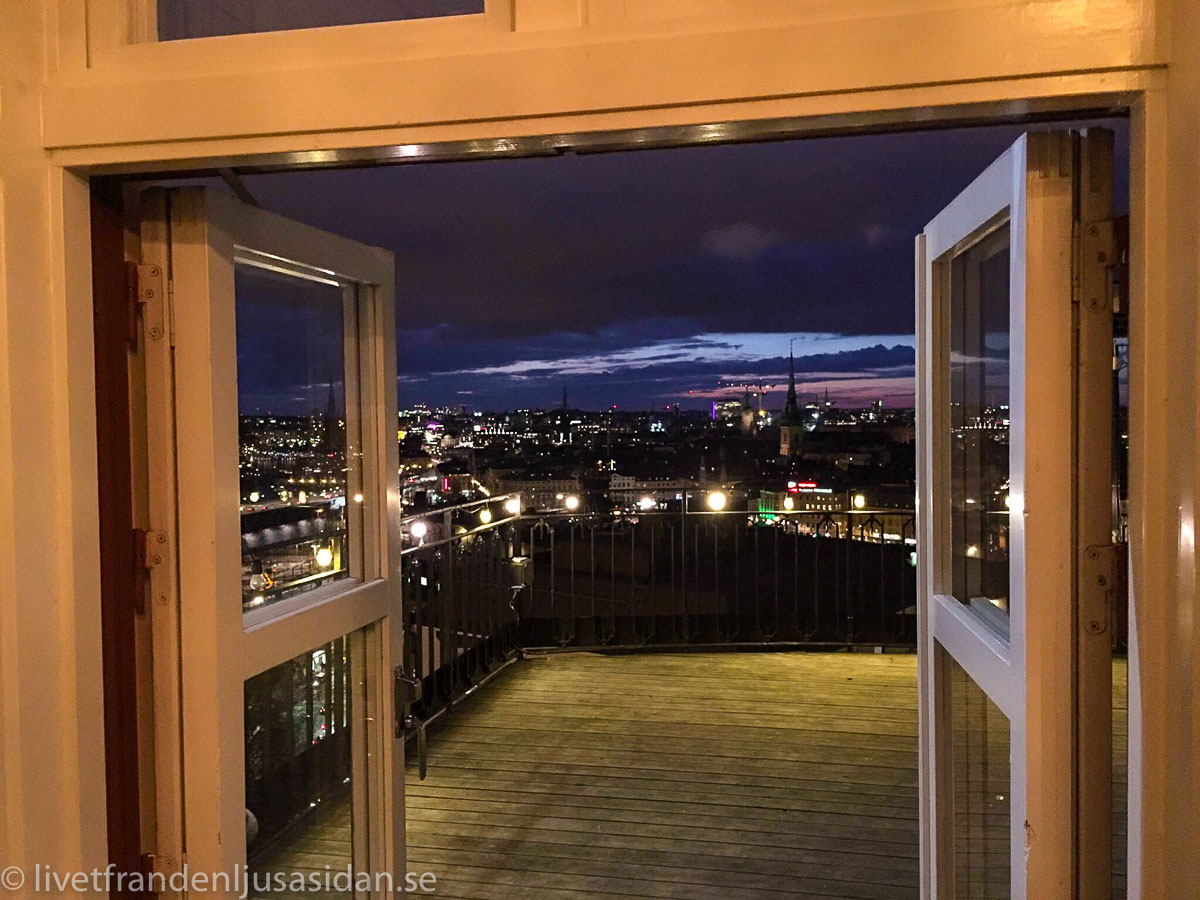 Vasastan
This is a nice area, also well worth a visit… Lots of nice little bars, cafés and restaurants (kvarterskrog). Odenplan->St Eriksplan. Storstad (nice bar), Tranan (bar), Cocovaja (café, best coffee in Stockholm), Republik (nice a bit 'hidden' bar), just walk around and find a place you like.
If there are too many places and to little time (which it is!) – rent a bike and explore the city. Get your bike in one place and return it in another. Easy, cheap, great way to experience Stockholm!